Uber Optics Petaluma, CA A striking visual imagination, a passion for photography and design, and some patient...
A large front window display provides a critical marketing opportunity for Visions Extraordinary Eyewear. Visions...
A selection of sandwich board designs from Providence Optical's Onega Astaltsova. There's nothing revolutionary...
Three guys, one idea, and the tools to launch your own lens brand. Imagine designing your own lenses for a...
A variety of looks from Eyecare of Florence's electronic billboard. At Eyecare of Florence in South Carolina, owner...
When Jim Mulligan founded Bouquet Mulligan DeMaio Eye Professionals, his love of sports was a key ingredient to their...
Dr. James Vann instructs a patient on matters of eye nutrition. Doctor 'supplements' patient care with a...
After working two years for someone else, Dr. Sarah Jerome started her own business: Look + See Eye Care in Minneapolis...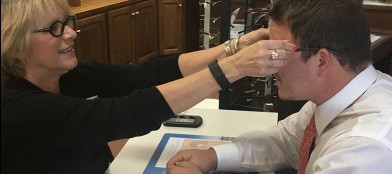 At Premier Vision Group's offices in Bowling Green, OH, no patient's individual fitting needs are too difficult for...